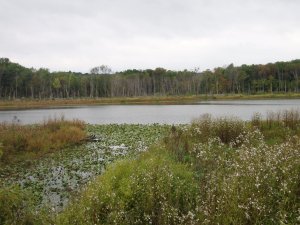 Established in 1998 as a collaborative arrangement between UA and Bath Township, Ohio, the mission of the University of Akron Field Station (UAFS) is to serve the public through research, education, and service that promotes a better understanding of the relationship we have with our natural environment.  Bath Nature Preserve is a 411 acre local park that includes about 40 acres of wetlands, 175 acres of grasslands, several streams, and both Beech-Maple and Oak-Hickory Woods.
Dr. Paul E. Martin Center for Field Studies and Environmental Education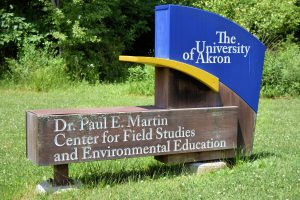 In 2004, UA acquired a headquarters building in the middle of the Bath Nature Preserve to help accomplish these goals.  The "Dr. Paul E. Martin Center for Field Studies and Environmental Education," is a 6,978 ft2 facility that serves as the base of operations for research and education at UAFS and within the surrounding region.  The building was recently (2009) renovated, and equipped with laboratory and teaching space, a large meeting room, and offices.  The station has high-speed DSL internet access and wireless coverage throughout the headquarters building.  The UAFS is equipped with seventeen compound and dissecting microscopes, a dedicated camera for use with microscopes, balances, ten laptop computers available for student use, a color printer, a copier, and a large format plotter for posters.
A variety of field equipment is available, including measuring wheels and tapes, GPS units (including differential correction software), seines, secchi disks, insect nets and curation supplies, an herbarium and plant presses, a small lawn tractor, Agri-Fab Mow-N-Vac, fertilizer spreaders, aquatic equipment, and a weather station.  The UAFS also has blimp equipment for collection of small format aerial photographs in a reliable and inexpensive manner.  An array of 36-380 liter tanks directly adjacent to the main station building is available for use in aquatic experiments.  Finally, UAFS maintains a 4×4 pick-up truck for use as a field vehicle, which will be combined with biology departmental vehicles to provide access to field sites.  The 175 ha area surrounding the UAFS is relatively undisturbed and consists of a mixture of natural habitats that encompass the wide range of habitat types found in northeast Ohio: grasslands, mesophytic deciduous forests, riparian forests, wetlands, peatlands, ponds, and streams.